Lessons I Learned From Sex And The City (and It Might Not Be What You Expect)
June 6th, 1998, the day Sex and the City premiered. I loved that show so much it became my unofficial life guide in my 20s. I wanted nothing more than to have a fabulous life where I love my job. Would have great girlfriends around me. And to create my signature style 🙂 Ultimately it helped me navigate through my 20s. So, in honour of Sex and City, I'm kicking back with a cosmopolitan and share some of the wisdom that Carrie and her friends have taught me.

Love yourself
As Carrie says in the end of the series: "The most exciting, challenging and significant relationship of all is the one you have with yourself. And if you can find someone to love the you that you love, well, that's just fabulous."

Cherish your friendships
Because 'no matter who broke your heart, or how long it takes to heal, you'll never get through it without your friends'.

There's always baggage
Everyone has a pile of baggage, but it's up to you whether or not you can handle someone else's big "but."



You don't have to explain your past, choices, or decisions to anyone.
Samantha left a lasting reminder to never settle in life, to never do something you don't want to do, and to never be toned down and tamed. Carrie added the lesson to keep questioning and searching things in life until you are happy and beyond content.

We can plan, but that doesn't mean it will go as planned.
Miranda's strict boundaries nearly intercepted her relationship with Steve. But when she let that go, her life unfolded in beautiful ways she hadn't imagined. While planning is a good thing to do in life, we must also be willing to swerve a bit along the way.

That some women just weren't meant to be tamed.
Carrie, Miranda, Samantha and Charlotte,  these women went through many partners but realized they should never change themselves to fit into another person's life.

He doesn't have to be perfect
Harry was far from everything Charlotte dreamed of. Harry was hairy on his back and talked with his mouth full. But she loved him anyway, he was the one that made her happy!



Life goes on



Refuse to settle for anything less than butterflies

No matter what, always get back up
If you fall pick yourself back up. Everybody fails and falls and comes to obstacles in life, but that's just great. Just like Carrie who fell from the catwalk. Always get yourself back up and when you do smile! Obstacles might bring you down but don't let that define you. In order to grow, you must go through hardships. And when you go through hardships and decide not to surrender, that is a strength.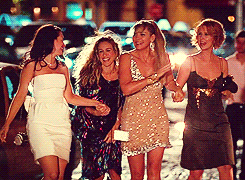 Did you learn anything from SATC?
I would love to hear from you…